Seberang Perai has experienced rapid population growth over the last two decades. In 2001 its population stood at 736,306 persons. However, growth was not evenly spread with most of it concentrated in the northern and central parts of Seberang Perai. The rates of growth by Districts are 35% for SPU (Northern District) and 43% for SPT (Central District) while SPS (Southern District) experienced only 22% growth.
Most of the population are concentrated along the coastal and metropolitan areas of MBSP. In the Southern District, the corridor along Federal Route 1 and areas close to the Perak border have attracted most of the area's growth.
The community of Seberang Perai comprises people of various races and religion.
KELUASAN

SPU

SPT

SPS

JUMLAH

26,161 hektar

23,799 hektar

24,019 hektar

73979 hektar

261.12km²

237.55km²

239.74 km²

738.41 km²

Kadar Pertambahan Penduduk Seberang Perai adalah sebanyak 2.2 % setahun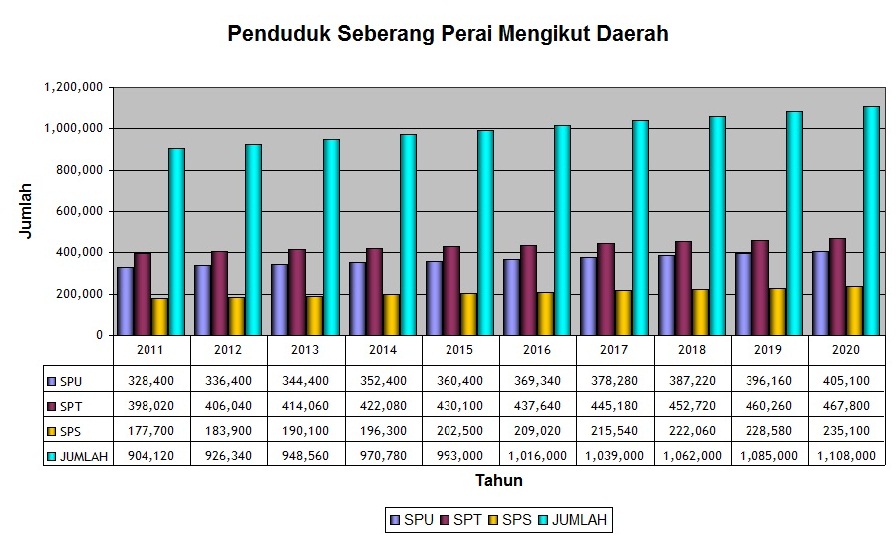 Sumber :

i. Laporan Penduduk Daerah dan Pentadbiran, Jabatan Perangkaan Malaysia, 1991.

ii. Taburan Penduduk dan Ciri-Ciri Asas Demografi, Jabatan Perangkaan Malaysia, 2000.

iii. Laporan Pemeriksaan Rancangan Struktur (Pengubahan) Majlis Perbandaran Seberang Perai.

iv. Draf Laporan Pemeriksaan Rancangan Struktur Negeri Pulau Pinang, 2000 - 2020.

v. Anggaran Pakar Runding PEMM Consultants Sdn. Bhd.